Begär mer information
Green Power Supplies meet Efficiency Level V Requirements 40W
Desktop style Power Supplies with IEC 60320/C8 inlet have Double-Enforced Insulation Mechanical Configurations, Regulated Outputs voltage from: 12 to 48Vdc in 0.1V increments, up to 40W of continuous output power. GlobTek's GT-41083 series of enclosed power supplies are housed in Impact Resistant non-vented Polycarbonate Case, Thermal Conduction Cooling, Case Dimensions: 47.8 x 75.5W x 28.2H (mm). This Family features: Regulated output with very low ripple, Built-in Protection features: O.C., S.C., O.V., Thermal, accepts Universal Input: 90-264Vac, meet UL /cUL & other International Safety Agency to IEC/EN60950 Requirements complies with EMI/RFI Regulations, EMC Directives/ CE and FCC Class B for ITE applications. All Models carry agencies' logos and CE-Mark. Reports including CB are generated by independent Certified Laboratory. Modified and Custom Designs are Also Available. GlobTek now offers a 5-year warranty. Made in USA option available upon request.
id:115 nr:
Power Supplies
Miljövänliga GlobTek 90W strömförsörjningar möter krav till Level V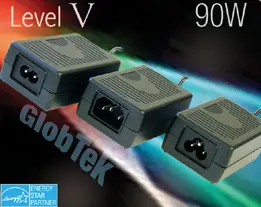 GlobTek desktop strömförsörjningar med IEC 60320 / C6,C8 eller C14 inngångar , har dubbel mekanisk isoleringsskydd och regulerade utgångar från : 12 till 48 VDC i 0,1V steg , upp till 90W kontinuerlig utgångseffekt . GlobTeks GT-41133 strömförsörjningsserie har stötsäkra ventilerade Polycarbonate plast hus med termisk kylning .