90W Power supply meets UL1310, 61347-1, UL/IEC60950 LPS, UL/IEC62368-1, IEC60601-1 Medical as well as suitable for LED Lighting meeting Class C Line Harmonics per 61000-3-2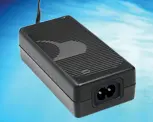 GlobTek's GTM96900P-90VV series of desktop power supplies are designed and qualified for a host of applications including IEC61347 for LED lighting. The family is available in desktop configuration with 3 options for IEC inlets: IEC60320 C6, C8, and C14. Both grounded and ungrounded double insulated configurations are available. The family of power supplies is available from 12VDC to 54VDC in 0.1v increments. The Power supply is rated 0°C to 50°C ambient temperature with full load. Fully certified for ICT (Information and Communication Technology) (62368-1), ITE (60950-1), Medical 60601-1, and household applications this family also doubles as an LED driver ideal for international applications by meeting Class C Line Harmonics per 61000-3-2 requirements for LED drivers. The model is also Limited power source (LPS) rated and has LED Driver 61347-1 certification.
The LED driver option has three Power Ranges available: 27-45W, 40-60W and 60-90W factory set.
Bespoke, customized enclosure colors, housing designs, output cord types and lengths, as well as customized packaging, Open Frame or ruggedized to various degrees of Ingress Protection, such as IP52 or potted IP68 versions are available upon request. According to BS EN 60529 and IEC 529, IP52 signifies that the medical (60601-1) power supply is Protected against dust - limited ingress (no harmful deposit) as well as Protected against direct sprays of water up to 15°C from the vertical. Test reports and certifications as well, as variety of other customizations or options is available upon request.
The power supply can be provided with customer designated output plugs, many of which are stocked at GlobTek New Jersey USA, Münster Germany, and Suzhou China locations.
Made in USA or Made in China options available. Local China to China delivery is available upon request.
Industry – Leading 5 year warranty
Contact GlobTek for a wide range of other Internationally Certified Power Supplies and other power-related products! 1-201-784-1000 or sales@globtek.us
| Name | Beskrivning | Output Watts | Input Voltage | Vout | Efficiency Level | Dimensions (mm) |
| --- | --- | --- | --- | --- | --- | --- |
| GTM96900P90VV.V-P2 | GTM96900P90VV.V-P2, ICT / ITE / Medical Power Supply, Potted/Encapsulated in plastic housing, Regulated Switchmode AC-DC Power Supply AC Adaptor, , Input Rating: 100-240V~, 50-60 Hz, See "Blade/Cord Installed" section. Contact GlobTek for customization requests such as Molded country plugs, Molex or TE connectors, or IEC connectors mounted on any type of cable in any customer specified lengths., Output Rating: 90 Watts, Power rating with convection cooling (W) , 12-54V in 0.1V increments, Approvals: CB 61347; CB 62368; S-Mark 62368; IRAM; IRAM; S-Mark; Morocco; | 90 | 100-240V~, 50-60 Hz | 12-54 V | VI | 178.0*76.0*39.5 +/- 1.0 mm |
| GTM96900P90VV.V-P3 | GTM96900P90VV.V-P3, ICT / ITE / Medical Power Supply, Potted/Encapsulated in plastic housing, Regulated Switchmode AC-DC Power Supply AC Adaptor, , Input Rating: 100-240V~, 50-60 Hz, See "Blade/Cord Installed" section. Contact GlobTek for customization requests such as Molded country plugs, Molex or TE connectors, or IEC connectors mounted on any type of cable in any customer specified lengths., Output Rating: 90 Watts, Power rating with convection cooling (W) , 12-54V in 0.1V increments, Approvals: IP68; CB 61347; CB 62368; IRAM; S-Mark; Morocco; | 90 | 100-240V~, 50-60 Hz | 12-54 V | VI | 178.0*76.0*39.5 +/- 1.0 mm |
| GTM96900P90VV.V-T2 | GTM96900P90VV.V-T2, ICT / ITE / Medical Power Supply/Class 2/Household Power Supply, 60601-1-4th Ed. , Desktop/External, Regulated Switchmode AC-DC Power Supply AC Adaptor, , Input Rating: 100-240V~, 50-60 Hz, IEC 60320/C8 AC Inlet connector, Class II, Non-Earth Ground (aka "Figure-8"), Output Rating: 90 Watts, Power rating with convection cooling (W) , 12-54V in 0.1V increments, Approvals: CAN ICES-3; cETLus 60601-1-11; UL 1310; cETLus; CB 61347; RCM; LPS 60950; CCC; Ukraine; EAC; S-Mark 62368; IRAM; Malaysia; UKCA; UL 1310; ETL 62368; LPS 62368; Morocco; S-Mark 60950; CB 60950; ETL; ETL; CB 60335; CB 62368; ETL; CB 60601-1; S-Mark; CE; China RoHS; Double Insulation; IP41; Level VI; Patent US9838207B2; RoHS; VCCI; WEEE; PSE; PSE; PSE; | 90 | 100-240V~, 50-60 Hz | 12-54 V | USA DOE Level VI / Eco-design Directive 2009/125/EC, (EU) 2019/1782 | 149.38 x 62.6 x 33.5 +/-1.0 |
| GTM96900P90VV.V-T3 | GTM96900P90VV.V-T3, ICT / ITE / Medical Power Supply/Class 2/Household Power Supply, 60601-1-4th Ed. , Desktop/External, Regulated Switchmode AC-DC Power Supply AC Adaptor, , Input Rating: 100-240V~, 50-60Hz, IEC 60320/C14 AC Inlet Connector, Class I, Earth Ground, Output Rating: 90 Watts, Power rating with convection cooling (W) , 12-54V in 0.1V increments, Approvals: CB 61347; RCM; LPS 60950; CCC; Patent US9838207B2; VCCI; EAC; IP41; cETLus 60601-1-11; UL 1310; cETLus 60950-1; Singapore (24V only); S-Mark 62368; IRAM; Malaysia; NOM (12,15,18,19,24,36,48,54V only); UKCA; UL 1310; cETLus 62368-1; ETL 62368; LPS 62368; Morocco; FCC; Taiwan BSMI (12V) pending; CB 60950; ETL; ETL; CB 60335; S-Mark 60950; CB 62368; ETL; CB 60601-1; S-Mark; CE; China RoHS; Class I; Level VI; RoHS; Ukraine; WEEE; PSE; PSE; PSE; | 90 | 100-240V~, 50-60Hz | 12-54 V | USA DOE Level VI / Eco-design Directive 2009/125/EC, (EU) 2019/1782 | 149.3 x 62.8 x 34.0 +/-1.0 |
| GTM96900P90VV.V-T3A | GTM96900P90VV.V-T3A, ICT / ITE / Medical Power Supply/Class 2/Household Power Supply, 60601-1-4th Ed. , Desktop/External, Regulated Switchmode AC-DC Power Supply AC Adaptor, , Input Rating: 100-240V~, 50-60Hz, IEC 60320/C6 AC Inlet Connector, Class I, Earth Ground ( aka "Mickey Mouse"), Output Rating: 90 Watts, Power rating with convection cooling (W) , 12-54V in 0.1V increments, Approvals: CAN ICES-3; Ukraine; CB 61347; RCM; CCC; Patent US9838207B2; EAC; S-Mark 62368; IRAM; Malaysia; UKCA; UL 1310; ETL 62368; LPS 62368; Morocco; S-Mark 60950; CB 60950; ETL; ETL; CB 60335; CB 62368; ETL; CB 60601-1; S-Mark; CE; China RoHS; Class I; IP41; Level VI; LPS 60950; RoHS; VCCI; WEEE; PSE; PSE; PSE; | 90 | 100-240V~, 50-60Hz | 12-54 V | USA DOE Level VI / Eco-design Directive 2009/125/EC, (EU) 2019/1782 | 149.38 x 62.6 x 33.5 +/-1.0 mm |